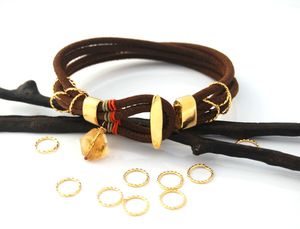 Fall is the perfect season for wearing Leather Bracelets. A nice handmade leather bracelet can not only help you create a stylish look but also cheer up your mood.
Knowing how to make a nice charm leather bracelet yourself is half way to an inspiring and mettlesome fall season. Just follow the 5 tips below:
1. Measure your cord to your desired length and then test around your wrist before cutting. Be sure to take into account the length of your clasp and how much leather will fit inside the glue-in part of the clasp.
2. When gluing more than one piece of leather into a clasp finding at a time, carefully lay it out on a table and arrange the leather cord the way you want it to lay around your wrist and fit in the clasp before you try to start gluing. Otherwise, your leather cord will end up a sticky, jumbled mess!
3. Make sure your clasp is glued on facing the correct way. When I was making my bracelet, I almost glued the bar end of the clasp facing inward so the leather loop would have not had a place to catch. That would have been a mess to try to fix once the glue was already in the clasp!
4. Place the glue in the clasp first and be a little conservative with it. You don't want to be cleaning off oozing glue from the suede or from your clasp. I used Scotch Maximum Strength Adhesive glue but you could also use a GS Hypo Cement – it would just take longer to get the right amount due to the tiny precision applicator.
5. Allow your bracelet to dry for at least an hour before wearing it.
Simple and stylish, the stitched round leather cord would be great for earrings and necklaces too!